We take care of all general mechanical repairs and services all makes and models. We even offer all of our clients a courtesy car upon request.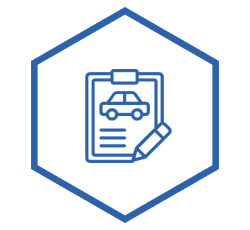 Log Book Servicing
Have you bought a brand new car, but are worried that servicing it outside of the dealership itself with void the warranty? Kiss your worries goodbye, as David Brown Mechanical Repairs can conduct these services for you, for all makes and models, on diesel, LPG and petrol vehicles. This helps you reduce unnecessary expenses, and gives you ultimate peace of mind, knowing it's still getting regular scheduled services, with warranty validity. It's the best of both worlds, really! To book your vehicle in for a log book service, contact us today.
Brake/Suspension Repairs
Brake functionality is possibly the most important safety feature on your vehicle. Alike to other areas of your car, your vehicle is subject to wear and tear over time that can jeopardise your vehicle's stopping power in the event of an emergency. This is especially important for city drivers, due to the constant stop-and-start nature. Don't wait until a close call to put your brakes' health to the test. Our team can replace and repair worn tyres and suspension repairs, so give us a call today to book a consultation with one of our experienced mechanics.
Tyres and Wheel Balance
Investing in good tyres can save you big bucks in the long-term. Some compounds suit different needs more than others and require the eyes of an experienced and qualified mechanic to assess the best tyres for your individual needs. Contact us today for a consultation regarding your tyre needs today!
Car Alarms/ Central Locking/ Car Audio
Do you rely upon your car to safeguard your tools needed for work? Protect yourself with comprehensive car alarms services, amongst our other services. Contact us today to learn more about our services.
Courtesy Car On Request
The world shouldn't have to stop when you take your car in for a service. That's why we offer our valued clients a courtesy car on request, so you can still get from A to B with ease. This means you've got no excuse to put off booking that service any longer! Give us a buzz to find a suitable time for a consultation.
General mechanical repairs and services on all makes/models
In addition to all of our specialised services, David Brown Mechanical Repair and Service Centre also take care of general mechanical repairs and services. If you've got a problem, chances are we've got it covered! We offer services on all makes and models.